Meet the Therapists
Here is some information on the therapy teams that visit the children at Manor Mead. Please feel free to contact the teams by phoning into school or sending a message via the home-school book.
Speech and Language Therapy (SLT)
Kate Bramley Lucy Davies Natasha Marlow Louise Joss
Kate leads the SLT team and is in Manor Mead at least one day each week, primarily seeing children with swallowing difficulties. She also works at Walton Leigh so organises her time flexibly across the schools.
Lucy is the named SLT for Blue, Yellow, Purple, White and Rainbow 1 classes. She is in school on a Tuesday and Wednesday.
Natasha is the named SLT for Green, Red, Pink, Orange and Rainbow 2 classes. She is in school on a Monday and Tuesday.
Louise, the SLT Assistant, will work with specific children across the school that Lucy and Natasha have identified as benefitting from specific input. She is in school on a Monday and Wednesday.
The SLT team work with the school staff to embed good communication support and development across the day and offer joint reporting, advice and training with school to families.
Occupational Therapy (OT)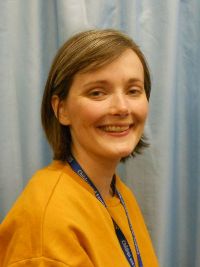 Lindsay Trumble Laurel Benfield Becca Pickering
The OT team are in school one day each week. The OT service can support specialist educational settings to develop a 'whole school' approach to delivering occupational therapy. This involves the OT team working with the educational setting to facilitate incorporation of OT strategies, advice and activities as part of whole school and whole class practise. This enables the whole school population to access OT to enhance participation in daily activities as part of their daily routines.
We provide universal support which can be accessed through training, workshops and link sessions arranged through meetings with the Therapists when they visit the school and through joint working as part of the school routine to share practices and approaches.
In addition, the website; www.childrenshealthsurrey.nhs.uk has resources to support school and parents.
The OT team run a functional and sensory workshop for all parents once a year at Manor Mead school. Please look out for details of these in the school newsletter.
If parents have any queries regarding OT please discuss these with your class teacher.
Physiotherapy
Nia Brandom Lesley Gray Tina Coombes
Nia is the lead therapist and your main contact for any queries about your child's therapy input; this includes questions around equipment used to support their posture in sitting, standing or walking. Nia is in 2 days a week and can be contacted via your child's home-school book or by e-mail on nia.brandom@nhs.net
Lesley is the Physiotherapy Assistant and works on Mondays, Tuesdays and Wednesdays although her hours at the school do vary as she also holds a community caseload.
Tina has previously worked at Manor Mead and is familiar with many of the children here. Tina provides physiotherapy input and will be at Manor Mead on Wednesdays.
An assessment is completed to inform the setting of goals and provision of a physiotherapy programme. The physiotherapy team provide training, guidance and support to staff at the school in regards to therapeutic handling and use of equipment as well implementation of therapy programmes that are incorporated into the school day.
We host a variety of clinics at school each term, including Wheelchair clinic, Lycra clinic and Orthotics; we aim to contact you in advance of these clinics, when applicable, so you can advise us of any questions or concerns you have.
Further information on our service and resources to support school and parents can be found on our website; www.childrenshealthsurrey.nhs.uk